21e6 Capital
Crypto Fund Database
The largest available database of global crypto hedge funds.
Unmatched data quality for >1,100 global crypto funds
Almost 50% more crypto funds in our database than other providers. Professional data for professional analysis and confident decision-making.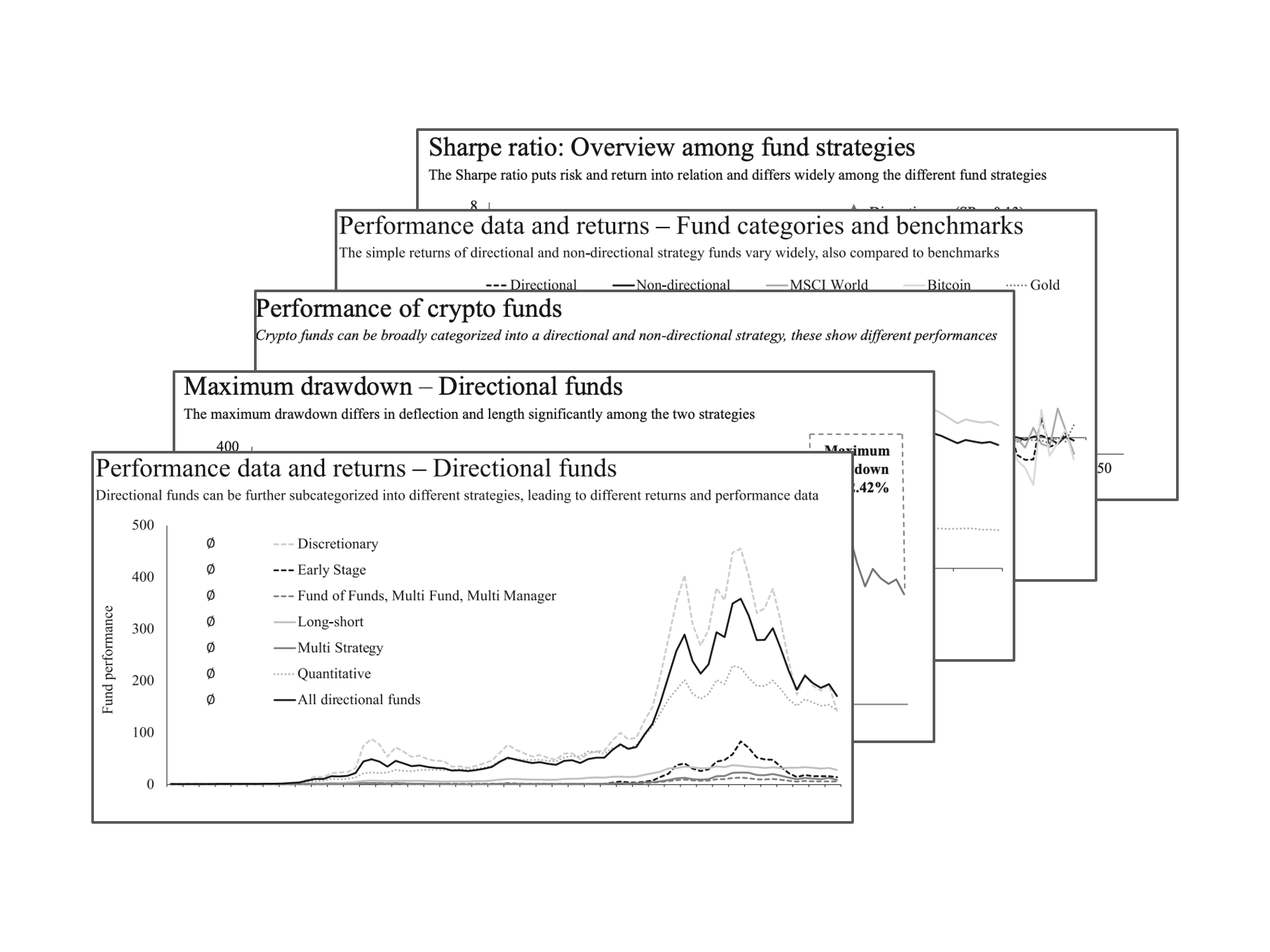 Best-in-class strategy segmentation
From lending or yield farming to long-shorts and arbitrageurs. You can filter the entire database by 16 different strategies. Accurately.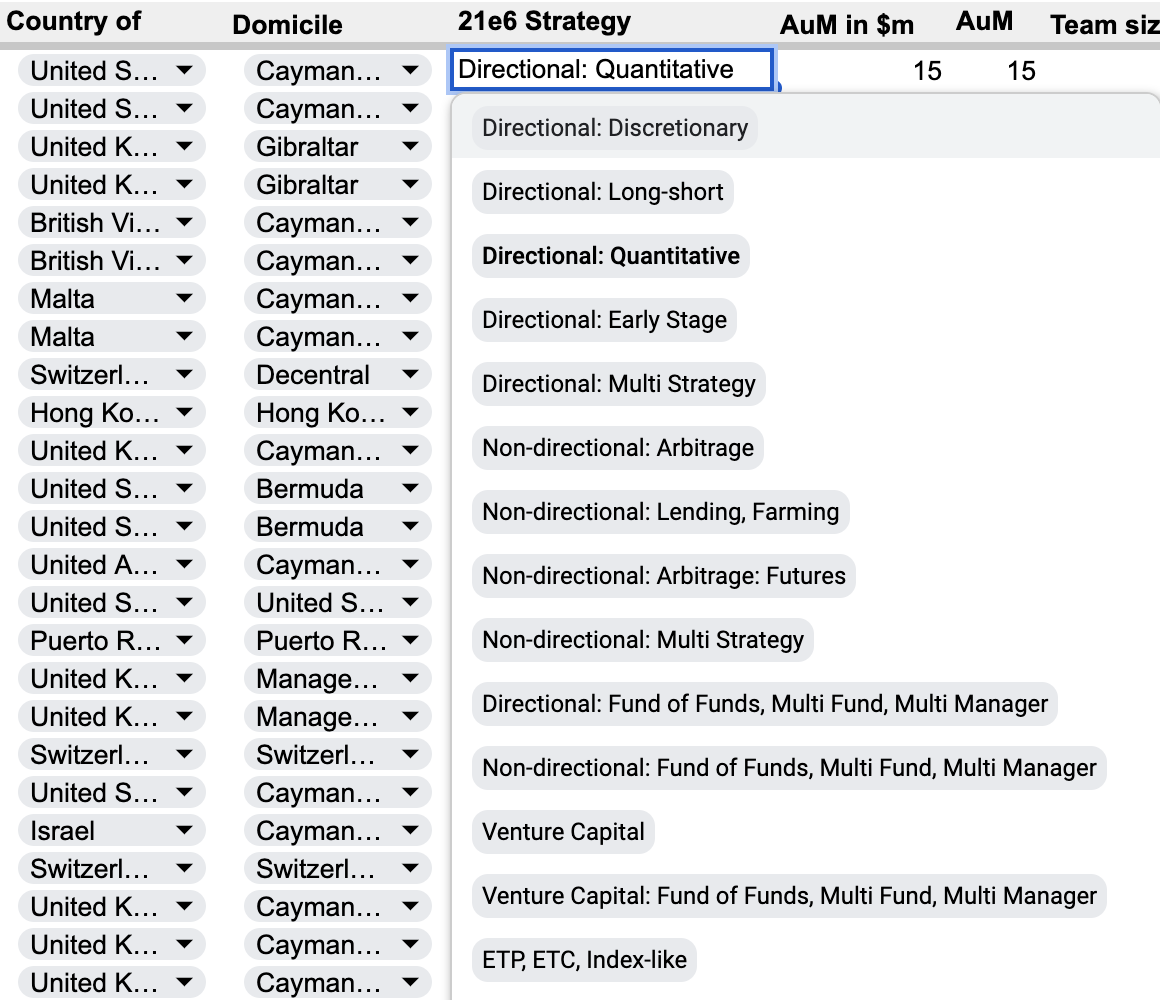 Make data-driven investment decisions. An Excel-based tool for screening the entire crypto hedge fund space. Data quality is rigorously reviewed to promote credible insights for sophisticated investors.
Get ahead on your fundraising journey. The basic database includes 500+ web3 venture capital funds. See where your next investors are based and how much money they manage.
Compare yourself with your direct peers and stand out to investors. Become a data contributor and get listed in the database for free, while increasing your visibility to your target investors.
Auditor? Custodian? OTC-Desk? Fund administrator? Monitor the space and identify your ideal customer from thousands of crypto hedge funds across the globe.
21e6 Capital works closely with various media outlets and leading business universities. We provide students, academics, and journalists with access to cutting-edge insights and data. If you are interested in an academic partnership, please reach out to us here.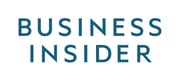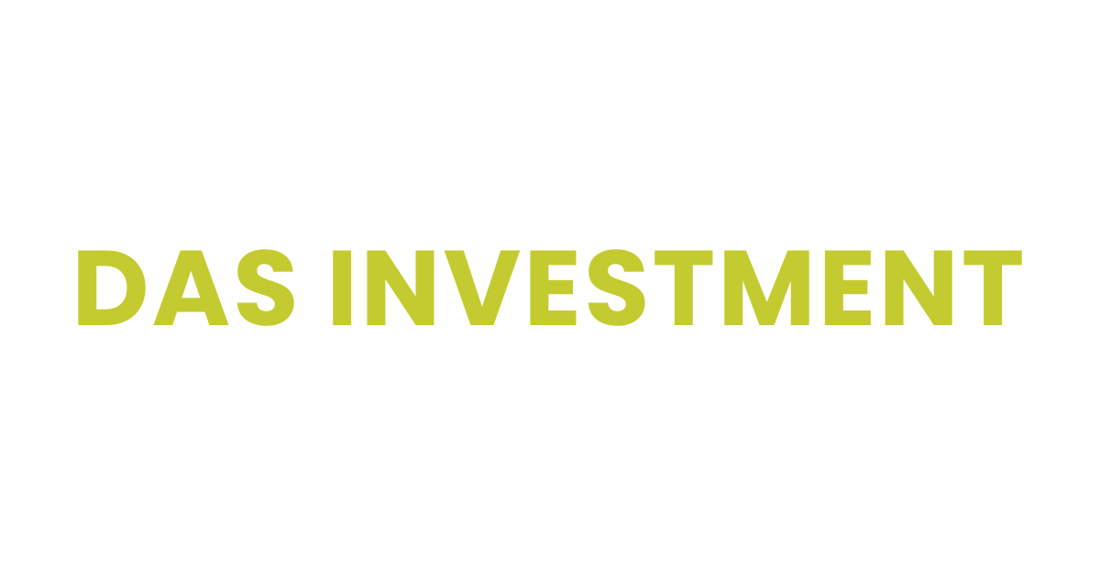 Crypto Fund Research
Based on our database, we produce crypto fund research articles and papers on a regular basis.
Basic
A good place to start searching for crypto hedge funds.
1,100 crypto hedge funds and venture capital funds.
Full strategy categorization and filtering capabilities.
Management team location and official fund domicile.
Download in excel or csv format, straight to your inbox.
Free updates for 12 months, sent to you like a newsletter - once a month.
Professional
For qualified investors looking for their next target. All the basic data, plus:
Accurate historic performance data, where available. Updated monthly.
Full fee structure information.
Subscription and redemption terms, incl. notice periods.
Fund management team size.
Information on multiple share classes, where applicable.
Custodial / depository bank.
Ultimate
All the basic and pro data, plus the 21e6 due diligence data with over 130 data points per fund.
Counterparties like brokers, exchanges, OTC-desks.
Position sizes and limits.
Execution permission management.
Custody deep dive (MPC, HSM).
Side pockets and side letters.
Rules-based risk management.
What is the 21e6 Crypto Fund Database?
The Crypto Fund Database is a comprehensive, regularly updated collection of information about crypto funds, crypto hedge funds, crypto venture capital firms, and other digital asset investment firms. Our database enables investors, financial professionals, and researchers to easily access a crypto fund list that is accurate, reliable, and up-to-date.
How do you ensure data quality in the 21e6 Crypto Fund Database?
Data quality is of the utmost importance to us. The database was originally built by 21e6 Capital for our crypto fund of funds and is used as a basis for further investment decisions. Additionally, a recent scientific thesis from a renowned university utilized our data, which involved extensive manual control and verification of the data. Furthermore, listed funds regularly receive updates about their listing, allowing them to review and confirm their entries. This creates a continuous feedback loop that helps maintain the highest level of data quality in our crypto fund list.
Why should I use the 21e6 Crypto Fund Database?
By using our Crypto Fund Database, you gain access to valuable information that can help you make informed decisions about investing in or working with crypto hedge funds, crypto venture capital firms, and other digital asset investment firms. Our database not only saves you time and effort but also ensures that you are working with the most accurate and reliable information available in the industry.
How often is the 21e6 Crypto Fund Database updated?
Our Crypto Fund Database is updated on a regular basis, ensuring that you have access to the most recent information about the ever-evolving landscape of crypto funds, crypto hedge funds, crypto venture capital firms, and other digital asset investment firms. As a customer, you will receive free monthly updates of the crypto fund list and a changelog documenting our improvements.
How is the 21e6 Crypto Fund Database different from competitors like CryptoFundResearch?
Our Crypto Fund Database differentiates itself through several key factors:
Larger fund coverage: We have a more extensive list of crypto funds, providing a broader range of investment opportunities for our clients.
Superior data quality: We maintain the highest data quality by collecting information directly from funds and through rigorous manual control processes.
Dedicated customer support: Our team is committed to providing personalized support for all our customers, addressing their questions and concerns in a timely manner.
Clear strategy segmentation: We classify funds based on detailed strategy categorization, ensuring that you have a clear understanding of each fund's investment approach.
What kind of information can I find in the 21e6 Crypto Fund Database?
The Crypto Fund Database includes a wide range of information about crypto funds and crypto hedge funds, such as:
Fund name
AUM (assets under management)
Fund type (e.g., crypto hedge fund, venture capital)
Strategy (e.g., long/short, arbitrage, quant, etc.)
Jurisdiction
Contact information
Performance data
Auditors, custodians, administrators
How can I access the 21e6 Crypto Fund Database?
You can access the Crypto Fund Database by subscribing to one of our plans. After signing up, you will receive the database as an Excel or CSV document via email, which you can easily integrate into your existing workflows.
What are the pricing options for then 21e6 Crypto Fund Database?
We offer two pricing plans designed to suit the diverse needs of our users, including individual investors, institutions, and researchers. Please visit our pricing page on our website (https://cryptofunds.21e6.io) to view and compare our subscription options.
If you are working in a larger team, please email us at support@21e6.io for more information on special rates for teams.
How can I get in touch with you for support or more information?
If you have any questions or need assistance, please feel free to reach out to our support team by visiting our Contact Us page (https://assets.21e6.io/contact-us) or send an email to support@21e6.io. A member of our team will be happy to assist you!
Can I request a custom report or specific data from the 21e6 Crypto Fund Database?
We understand that our users may have unique data requirements. Please get in touch with us at support@21e6.io with your specific request, and we will do our best to accommodate your needs.