21e6 Capital
Next Generation Crypto Sector Indices
Well-constructed crypto indices (issued as funds or certificates) will become highly sought after among all investor groups.

The market is very hard to beat
According to S&P SPIVA, between 80-90% of large cap equity funds worldwide underperformed the S&P 500 over a period of 15 years.
The same can be expected for crypto assets.

Investors require low entry barriers
Crypto assets are extremely dynamic. Self-constructed portfolios require
deep knowledge of multiple sectors within the space.
A managed index is the easiest way to buy into the market.

Attractive for retail and institutions
Single crypto wrappers (e.g. Bitcoin only, Ethereum only) are only attractive for retail investors due to high costs and issuer risks.
Index trackers offer added value to institutional and retail investors.
Felix Fernandez, CEO of 21e6 Capital, presents a new approach to creating a crypto-index benchmark.
The sectors are based on the ITSA classification frameworks, which are the most widely used in the world.
Index Objectives
Our approach, the "21e6 Crypto Sector Indices" solves several index issues still prevailing in current solutions.
Structured Market Classification
Based on a broadly recognized classification by ITSA, we achieve better market representation and add value through innovative crypto sector indices.
Enhanced Capital Weighting
Mathematical procedures developed by OpenMetrics Solutions include market cap dampening factors to reduce concentration and achieve higher diversification.
Resistance Against Short-Term Visitors
The index methodology is outlier resistant and significantly reduces the risk of including a short-term visitor into any index during volatile market periods.
Significant Potential for Future Growth
2% of the assets in stock and bond markets combined (218 Tn.) may move to crypto assets in the next years. This means approx.: 4.5 Tn. additional inflow, leading to 6 Tn. crypto asset market cap.
A benchmark index family could capture 1% of these 6 trillion, creating a liquidity pool of approximately 60 billion.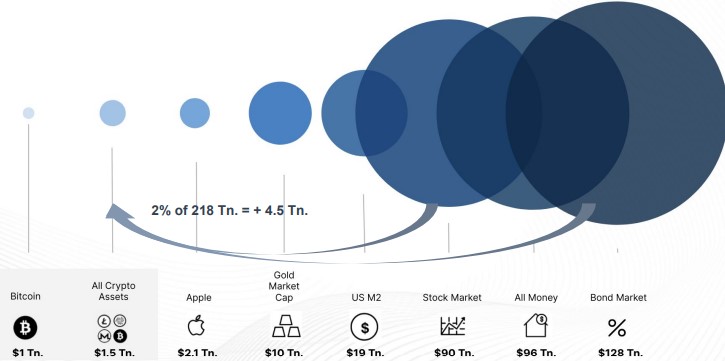 Partnering with ITSA and OpenMetrics Solutions
A multi-dimensional classification system of digital assets with state-of-the-art index construction technology.


ITSA brings order to token markets by making crypto assets uniquely identifiable.
The ITC™ Framework: The first of its kind to classify cryptographic tokens in a systematic, flexible and multidimensional approach.


Applied to over 400 crypto assets, covering 99% of total market cap.


Token identifiers and classifications distributed to major financial data providers.
An ETH-Zürich spin-off using state-of-the-art research and technology.
Provides index calculation logic, periodic weights, and rebalancing.


Quant-as-a-Service simulation and risk management framework.


Trusted by Switzerland's largest pension fund and other financial institutions:



Index Roadmap
We plan to implement a sector covering index family to address specific investors' needs and extend market perspective.
Q4/2022
Phase 1

Database, index method, calculation
We propose an index family based on academic research by ITSA and state-of-the-art technology by OpenMetrics Solutions, covering high-potential sectors of the emerging blockchain-industry.
21e6 - Transactional Utility Token Index
21e6 - Blockchain Native Index
21e6 - Ex Proof of Work Index
21e6 - Payment, Exchange, Trading,
Settlement Index
21e6 - Smart Contracts Index
21e6 - Fixed Supply Index


Q1/2023
Phase 2

Index calculation and distribution
Calculating and publishing 21e6 crypto sector indices.
Distribution and marketing to establish a benchmark index family.
Q2/2023
Phase 3

Launch index trackers along market priorities
Launching and raising capital for index tracker ETPs with strategic partners.
Full Article:
Next Generation Crypto Sector Indices
Read our full article on crypto sector indices and the potential they hold. This article was initially published by CfC.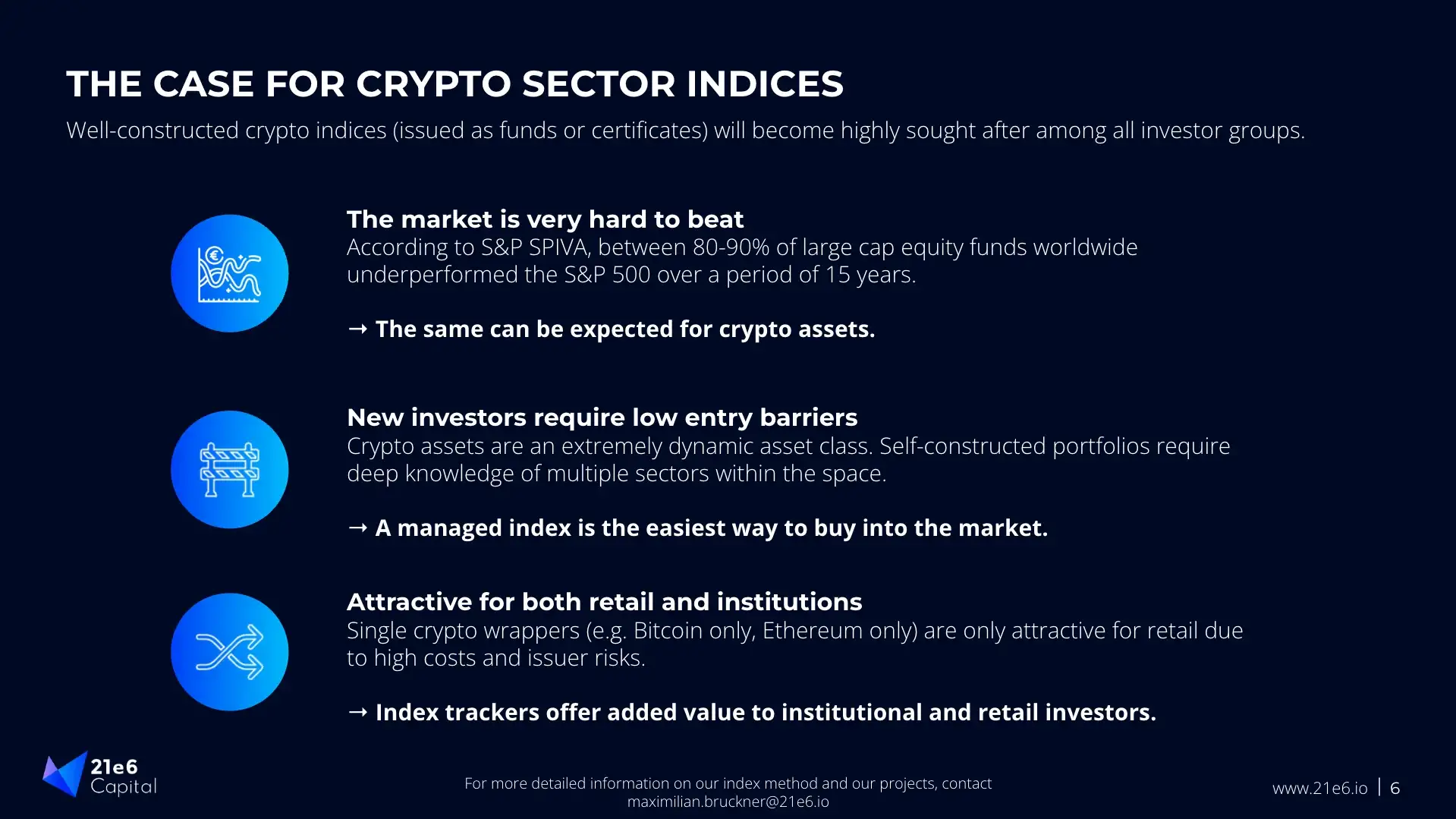 Contact us now to access the full potential of Crypto Sector Indices